Thursday the 3rd of November was international stout day. Guinness celebrated with an event at their experimental bar, 'The Open Gate'. The night featured a plethora of stouts both from Guinness and from some featured breweries. An apple stout and a burnt sugar with sea salt stout were amongst the Guinness offerings, while The Porterhouse, 5 Lamps and Dungarvin were part of the selected Irish breweries to bring along their own take on the classic style.
It was a confident showing from the guys at St James's Gate who have recently started to branch these small batch beers out to bars in Dublin and around Ireland. With a rye ale coming soon, a nitro IPA just launched and talk of the 8% behemoth 'Antwerpen' being released to the Irish market, I thought this would be a good time to talk about craft beer in the home of the black stuff and how it will affect the market as a whole.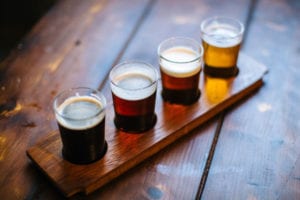 Beers like Narwhal (10.2%) and KBS (11.2%) have been imported here for a long time, and Irish showings like 200 Fathoms (10%) show that we are well capable of putting together a heavy hitter ourselves, so it might not seem like too big a deal for Guinness to go to market with an 8% beer. However, there's an entirely different group of people in line to see this beer. A large portion of big craft bars don't have the new Guinness craft tap installed, so this beer will be presented in places with a much smaller craft beer selection, to people with less experience with beers over 5% ABV.
I have it on good authority that Guinness will be shipping their own 330ml glasses with kegs of 'Antwerpen' for the many bars that don't stock this size of glassware. This could be a very important development for craft beer in Ireland. There have been many times I have had a customer change their order because a beer isn't served in a pint glass, because 'it's what they're used to' or because they 'wouldn't hear the end of it' drinking from anything that didn't contain the socially acceptable amount of liquid.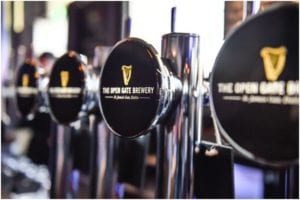 The Dublin brewery holds the power to change this stigma, to introduce a new way of drinking to the Irish public. To show people that a smaller amount is fine. That slower drinking is more enjoyable, and that you don't need to constantly gulp away at pint after pint of imported lager while socialising. It's not the first time that Guinness has released different products to sit alongside the famous stout, but it seems like this might be the most successful attempt they have had so far. Many beer reviewers will tell you that the beer is very good too, reflective of how much time and effort is going into the brewers project as a whole.
Guinness isn't shying away behind an alternative badge either, pretending to be a small brewery from some unknown shed in cork. They are printing their name proudly above the St James's Gate address on all of these beers. It's a very different approach than some of the other macro breweries and one that has been welcomed with open arms by the ever expanding craft beer community in Ireland. We're all looking forward to enjoying a couple of glasses of 'Antwerpen' very soon.
Dean