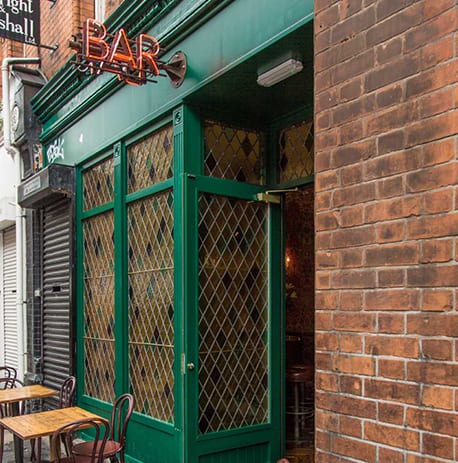 Friendly Neighbourhood bar for all, in the heart of Fade Street, bringing you the best selection of the Irish Craft, we bring the Irish Boilermaker to you, pairing together with what we do best, whiskey and beer.
To gins, craft beers and our twist on cocktails from an era we tip our hat too, when the music was full of soul, the people were full of inspiration and everybody around where there to have a good time.
OUR HISTORY
In April 1942, the transformation began of Idlewild golf course to Idlewild airport (now JFK airport) in New York.
Like all good construction projects in America back then, the Mafia and the Teamsters had an interesting role in its development through their legendary "consultancy agreements".
One of their "conditions" was the incorporation of the Idlewild Bar
into the building, an establishment which they operated for their colleagues, friends and molls.

Legendary artists and actors would regularly frequent this bar pre and post fights with the likes of Frank Sinatra, Dean Martin, Marylin Monroe, John F Kennedy, Angie Dickinson and Sophia Loren all stopping in to get away from the paparazzi. If only the walls could talk!

It also may have been the birth place of a secret love affair between a president of the free world, and the most glamorous blonde bombshell of all time.

Legend has it that the manager of this 'fine upstanding emporium' was Irish and subsequently went on to manage the Flamingo in Las Vegas on the recommendation of Mr Sinatra and the Rat Pack.
We tip our hat to this era, to the colourful characters, and the Irish connection.

In this little neighbourhood bar at 14 fade street, which itself had a colourful history as a place where ladies of the night kept residence in the 1830's in the basement.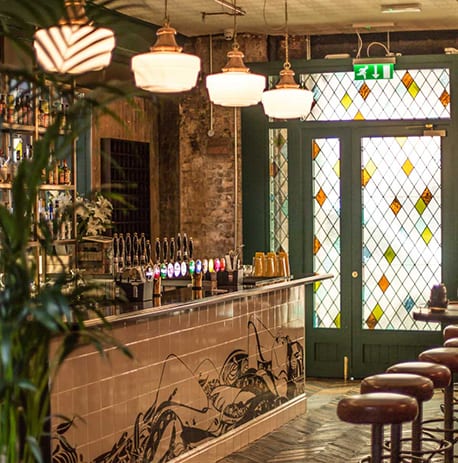 DRINKS MENU
Beers On Tap
Idlewild Swinging Affair Pale Ale
5.50
Bottled Beers & Ciders
Bulmers Strawberry & Lime
6.30
Bulmers Cloudy Lemon
6.30
Dan Kellys Whiskey Cask Cider
6.90
Craft Beers
WHITE HAG: KOLSCH
4.6% 330ML
German style Kolsch beer brewed in Sligo, this is a crisp refreshing beer thats serves as a perfect intro to the craft beer world.
5.50
TROUBLE BREWING: DECEPTION
4.3% 500ML
A smooth and refreshing ale from Kildare featuring both British & American hops, with subtle fruit flavours and a crisp finish.
6.50
KINNEGAR: LIMBURNER
4.7% 500ML
A fuller bodied pale ale crafted in Donegal provides a refreshing flavour complimented by a hoppy accent at the finish.
6.50
TROUBLE BREWING: GRAFFITI
3.6% 500ML
Heavy additions of Citra & Amarillo hops mean that this session pale ale provides a big punch despite its easy drinking ABV.
6.50
FOUNDERS: ALL DAY IPA
4.7% 355ML
A world famous American IPA providing complex fruity flavours & a balanced aromatic finish.
6.00
EIGHT DEGREES: THE FULL IRISH
6% 330ML
Brewed in north Cork, this IPA was voted Irelands beer of the year by the Irish craft beer association, Beoir, in 2015.
5.80
RASCALS: YANKEE WHITE IPA
5% 330ML
is Dublin Brewery's hybrid style provides all the complex flavour of an IPA in conjunction with the fruity citrus you would expect from a wheat beer.
5.50
RASCALS: WUNDERBAR
6% 330ML
Brewing with new breed German hops, & a combination of German & Irish malts gives this IPA a full bodied mandarin & grapefruit flavour.
5.80
KINNEGAR: DEVILS BACKBONE
4.9% 500
A full flavoured hazy amber ale with a caramel and chocolate sweetness on the finish.
6.50
RASCALS: BIG HOP RED
5% 330ML
A lively red ale with a sweet caramel backbone. Piney aromas come from a generous helping of west coast American hops.
5.50
KINNEGAR: YANNARODDY
4.8% 500ML
is award winning jet black porter is brewed with a hint of coconut that adds a velvety smooth sweet taste to complement the rich toasted malts.
6.50
WHITE HAG: WHITE SOW
5.2% 300ML
A chocolate milk stout that has to be tasted to be believed. A velvety mouth feel pairs with flavours of chocolate, coffee and cream.
6.00
Teas & Coffees
BREAKFAST OF CHAMPIONS
Jameson Caskmates & White Hag: White Sow Stout
10.00
CORK BOI
Powers Three Swallows & Eight Degrees: The Full Irish
10.00
JOXER LIVES ON
Jameson Crested & White Hag: Kolsch
9.00
THE CRAFTY DUBS
Teelings Small Batch & Big Hop Red
9.00
KEEP THE DOCTOR AWAY
Tullamore Dew Cider Cask & Dan Kellys Cider
12.00
TRAVELLING PIRATE
Rum Old Fashioned & Idlewild Pale Ale
10.00
PAINT ME LIKE YOUR FRENCH CAILÍN
Boulevardier & Seasonal Irish Red Ale
10.00
MONDAY
Beefeater gin, Campari, sweet vermouth, lemon juice, blood orange juice, rosemary syrup & egg whitesInspired by: The Negroni
9.00
TUESDAY
Olmeca tequila, Cointreau, pineapple juice, lime juice, ginger syrup & jalapeno sliceInspired by: The Margarita
9.50
WEDNESDAY
Absolut vodka, Kahlua coffee liqueur, salted caramel syrup, espresso shot & chocolate caramel squareInspired by: The Margarita
8.50
THURSDAY
Bombay Sapphire, Cointreau, lime juice, orange marmalade, saffron spiced syrup & prosecco topInspired by: Breakfast Martini
9.50
FRIDAY
Builleit bourbon, Amaro Averna Italian liqueur & orange bittersInspired by: The Manhattan
9.50
SATURDAY
Plymouth gin, Havana Especial, Galliano, lime juice, & passionfruit juiceInspired by: The Hurricane
8.50
SUNDAY
Whiskey, sherry, vanilla syrup, whole egg & grated nutmegInspired by: A Flip
9.00
Irish Whiskey
Teelings Small Batch
5.80
Teelings Single Grain
6.80
Tullamore Dew Cider Cask
7.80
Teelings Single Malt
8.00
Jameson Black Barrell
8.20
Redbreast 12 Year Old
10.00
Jameson Blenders Dog
10.50
Jameson Coopers Croze
10.50
Jameson Distillers Safe
10.50
Redbreast 15 Year Old
15.50
Middleton Very Rare
19.50
American Whiskey
Scotch
Gin
Edinburgh Elderflower
6.00
St. Patricks Elderflower Potato Gin
6.00
Drumshanbo Gunpowder
6.50
Vodka
Cognac
Rum
Appleton Signature Blend
6.20
Tequila
Herbal & Liqueres
Martini (Bianco, Dry, Rosso)
5.10
Small Bottles
Soft Drinks
Schweppes Tonic/Slimline
2.20
Soda Water/Bitter Lemon
2.20
Tipperary Still/Sparkling
2.80
Fever Tree Elderflower Tonic
3.50
Red
PETIT BERTICOT
MERLOT
Predominant blackberry flavours with a peppery hint.
G 6.80
B 26.00
ELEFANTE
TEMPRANILLO SHIRAZ
Dark red, ripe dark berries, plums & smoked spice.
G 6.80
B 26.00
LA PODEROSA
CABERNET SAUVIGNON
Fruity nose of cassis, cherry & blackcurrant
28.00
ASTORIA
PINOT NOIR
Packed with strawberry & raspberry aromas as well as a touch of earthy spice.
32.00
CLOS LA COUTALE CAHORS
MALBEC
Forest fruits, earthy & well balanced tannins.
36.00
White
SANTA LIANA
SAUVIGNON BLANC
Refreshing finish, with pineapple & grapefruit notes.
G 6.80
B 26.00
DONINI
PINOT GRIGIO
Distinctive bouquet of wild flowers, hints of honey & fruit
G 7.00
B 27.00
ASTORIA
PINOT GRIGIO
Bright aromas of melon & hints of honey.
32.00
SCAIA
CHARDONNAY
Crispness & richness comes through, with apricot & peach notes.
33.00
OLD COACH ROAD
SAUVIGNON BLANC
Alive with bright nettle leaf, dried seasonal hops & tropical characters.
35.00
Rosé
LES PETIT JAMELLE
Well balanced, pale pink in colour with fruity avours.
26.00
Sparkling
CASA GHELLER
PROSECCO SUPERIORE
35.00
MUMM CORDON ROUGE NV
CHAMPAGNE
90.00

14 Fade St. Dublin 2
01 253 0593
Mon-Wed: Open from 6pm
Thu - Sun: Open from 5pm
Your feedback is always appreciated; if you have anything you'd like to share, please contact us on email: feedback@marketbar.ie