We're back open this Wednesday 12th August…
…with our new tapas bar menu and a great offer on Estrella Galacia
First: Choose any number of the dishes from the menu below that equals or is greater than €9 per person at the table.
PADRON PEPPERS (vg) 8
smoked salt (13)
PATATAS BRAVAS (v) 6
fried potato cubes, spicy tomato sauce (3,10,11,13)
NACHOS (v) 7.5
salsa, cheese, guacamole, sour cream, jalapeños (9,13)
GALICIAN MUSSELS 8.5
fresh Irish mussels, traditional Galician sauce of white wine,
garlic, onions (5,9,13)
CALAMARES FRITOS 7
lemon, marinara sauce (1,5,13)
CROQUETAS DE JAMÓN 6
serrano ham croquettes, garlic aioli (1,3,9,11,13)
Bucket of 5 x Estrella Galicia only €20
Then order some beers or Cocktails. We've a great offer on Estrella Galicia right now: a bucket of 5 x Estrella Galicia long-necks for only €20.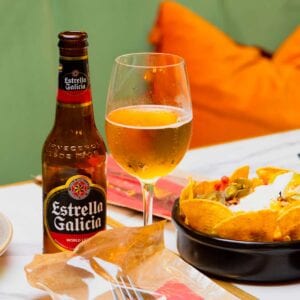 You then have a whole hour and 45 mins to quaff away.
Open Sunday to Thursday from 5pm to 11pm.